Current Students
Email Access
Student Portal Login
Use the student portal to access your individual…
Class schedule
Grades
Course checklist for your major/degree
Financial aid account information
Transcript (for viewing and request)
You can also view:
OCU calendar
Campus announcements
Online Learning Center
Experience the virtual online learning community now to view online assignments and interact with professors in online and web assist courses.
Go to the Online Learning Center
Links
Multimedia Gallery
Intramurals
Career Services
Emergency Procedures
Student Handbook
NEWS
Fall 2016 Texbooks Available
Jul 20, 2016 at 9:59 AM
Textbooks for the Fall 2016 semester are now available to purchase in the OCU Online Bookstore. Free shipping is available through the United State Postal Service from 20th- July 26th, 2016. Order your books online now.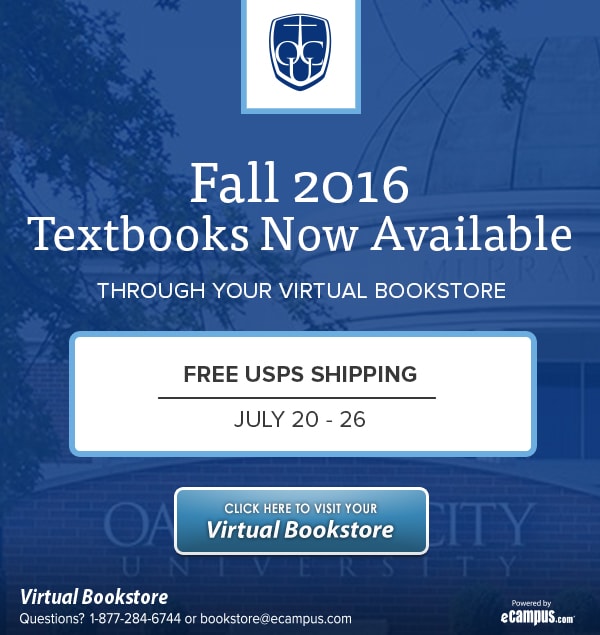 OCU Announces New Mobile App for Students
Jul 11, 2016 at 2:41 PM
Oakland City University would like to announce the release of a brand new mobile app for students, myOAK. The app will make important information such as grades, Moodle assignments and events more easily accessible. Once installed on a device, students may login with the same credentials used for the student portal. The myOAK app is available for download on both Android and iOS devices.
Jul 11, 2016 at 8:51 AM -
Good News Players Scheduling Performances for the Upcoming School Year
Jun 14, 2016 at 9:37 AM -
Career Services Available During Summer 2016
Jun 1, 2016 at 9:35 AM -
Spring 2016 Dean's List Announced
May 4, 2016 at 8:42 AM -
Commencement Rehearsal
May 3, 2016 at 11:56 AM -
Spring 2016 Exit Counseling Deadline May 7th
UPCOMING EVENTS
Friday, 12 August, 2016
CASA Testing - 08:30 AM
Wednesday, 17 August, 2016
Fall Semester Classes Begin - All Day Event
Tuesday, 23 August, 2016
Organization Day - 09:00 AM
Tuesday, 23 August, 2016
Auditions for Earthlight & The Great Command - 04:00 PM
Thursday, 1 September, 2016
Pep Band Auditions - 04:00 PM